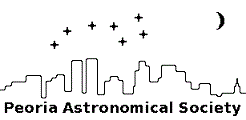 Current sky conditions for Peoria, IL:

Welcome to the Peoria Astronomical Society!
---
The Peoria Astronomical Society is a non-profit organization of amateur astronomers from Peoria, Illinois and the surrounding community.

The PAS is very active, and we always have something exciting going on at least once a month.

Check out the Club Activities page for general information on telescope viewing, events, and public meetings.
---
Next Membership Meeting at the Planetarium, Downtown Peoria, IL
Wed, October 5, 2016, 7:30pm - 9:00pm Topic: Asteroid Capture Missions: Rob Landis (via Skype-NASA)
The PAS "Summer Schedule" provides weekly public viewing events at Northmoor Observatory, viewing events in place of the June, July, and August public membership meetings in the Planetarium, and the Annual Dinner replaces the September meeting. See the Calendar and Activities pages for details.
---
Feature Article
From time to time, special features will be displayed in this space. Prior features will be preserved on the "Features Archive" page.
Artwork at MAXAM Building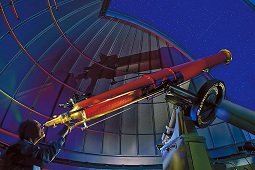 Art by Doug and Eileen Leunig,
http://PurposeDrivenArt.org
---
Other Member Information
2016 - Northmoor Host Schedule (Download PDF)
For events and weather go/no-go cancellations, check out our Calendar.
View the club By Laws
For more information, contact us by email or write to us at the address below.
---

Visit us on Facebook Peoria Astronomical Society, PO Box 10111, Peoria, IL 61612-0111 Revision: 7/7/2016
Please report issues with this page to the website manager.