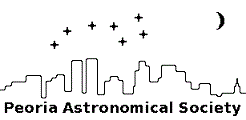 Current sky conditions for Peoria, IL:

Constellations:
---
SAC 60
The members of the Saguaro Astronomy Club (pronounced sa-war-oh) of Phoenix, Arizona have provided much of the effort to compile this database. However, it could not have been completed without the skill of a variety of people who are not SAC members.
---

Visit us on Facebook Peoria Astronomical Society, PO Box 10111, Peoria, IL 61612-0111 Revision: 7/1/2016
Please report issues with this page to the website manager.